Denver Lands Sean Payton; Saints Get First-Round Pick
January 31st, 2023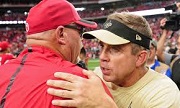 Former slimy Saints head coach Sean Payton has a new home — far, far away from the NFC South, and seemingly far from where Tom Brady would want to play.
Denver won the Chase For Payton today by hiring him as head coach, which required Denver to send the Saints a 2023 first-round pick (No. 30 overall) and a 2024 second-round pick; New Orleans coughed a 2024 third-round pick back to Denver as part of the deal. Payton was still under contract in New Orleans, hence the compensation.
For those wondering, that No. 30 pick is the only Saints selection in Round 1 this season. They had already traded away theirs to the Eagles. (Yes, the rich get richer.)
Payton had interviewed with Carolina (they hired Frank Reich) and potentially was a big longshot to land in Miami and Tampa, given his shady history with Tom Brady.
Now he gets to play in the AFC West with Russell Wilson and the $100 million-plus still owed him.
Joe likes when Payton is nowhere near the Bucs.