Dallas 5, Buccaneers 2
January 13th, 2023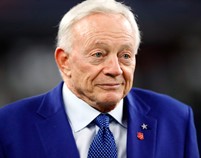 What's giving Bucs fans the most optimism when it comes to Monday's playoff game?
An offensive explosion two weeks ago in a must-win game against Carolina probably tops the list along with the presence of Tom Brady. Some might cite overall team health. But Joe is sure nobody is talking about all the playoff teams the Bucs beat this season.
Tampa Bay owned Dallas on opening day and was dominant against Seattle two months ago. That's it.
Dallas, however, has five wins against playoff teams. They beat the Giants twice, the Bengals, the Eagles and blew out Minnesota 40-3.
For Joe, that's what makes the Cowboys' massive stinkfest last Sunday against the Commandos feel more like a bizarre anomaly, though Joe did watch the Cowboys barely (and somewhat luckily) squeak out a win against the miserable Texans last month in Dallas. The Bucs have squeaked out wins against sorry teams all year.
Joe keeps hearing that all the pressure is on Dallas and their 12-5 record, but the Cowboys always play under major scrutiny and perceived pressure.
Regardless, Joe is a bit queasy knowing how well Dallas has done this season against strong opposition.