Carlton Davis Expects To Play Monday Night
January 10th, 2023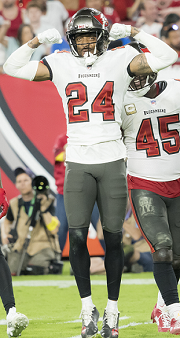 The Buccaneers' No. 1 cornerback has missed the last two games with a shoulder injury and lots of practice time.
There is no official injury report yet for Monday's playoff game against the Cowboys, but expect Davis to play.
Joe bases this claim on how Davis was talking during an extended interview yesterday on the Buccaneers Radio Network. It was crystal clear that he has no doubt he will play.
Davis actually shared his stats prediction for the game that a team trainer gave him. And Davis talked about how he loves to play against a team like the Cowboys, his favorite club as a kid.
"They're going to sling that rock," Davis said. "They're going to throw the ball. They're going to be aggressive; that's just in their nature. … They have the DNA. Every team has a DNA. 'We're going to play Cowboy football. We're going to be aggressive. We're going to throw the ball like 40 times and we're going to live and die by it."
Davis went on to say teams have dinked and dunked more on the Bucs all season, but he doesn't expect that from Dallas. The Bucs defense plays much better against an attacking offense, Davis believes, and they're better playmakers when opponents come after them.
Joe is just happy to hear Davis will return.