Brady-To-Dolphins Chatter Heats Up (Part II)
January 12th, 2023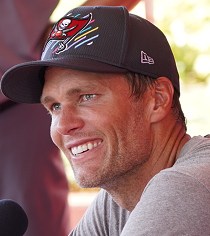 Tom Brady will be a free agent in 8 1/2 weeks and a few hits to the head of the Dolphins quarterback has sharpened the related speculation.
The folks who told the NFL world Brady to Miami with Sean Payton was a real thing last winter, ProFootballTalk.com (and many scoffed at the NBC report), went there again this morning.
Nothing concrete, just that a Brady move to Miami is "definitely on the table."
For those unaware, the Dolphins were slapped with heavy penalties by the NFL for tampering with Brady and Sean Payton as they were under contract with their respective teams. But there was no ruling by the NFL that the Dolphins couldn't do business with Brady or Payton.
Brady's two youngest kids live in the Miami area, so it appears, and he has a home there. But perhaps more important to his decision is a powerful Dolphins offense and a fresh challenge.
Miami QB Tua Tagovailoa has had a string of concussions and will miss their playoff game this weekend.
Joe truly believes Brady hasn't made a decision on his 2023 destination. So the Bucs remain in the running.
Ira Kaufman Talks Lenny Vs. Rachaad, Explores The Longterm Effects Of Monday's Result, Offensive Strategy, Byron Leftwich Spin, NFC Outlook, Scheming The Run, And Much More