A Final Look At Replacing Rob Gronkowski
January 29th, 2023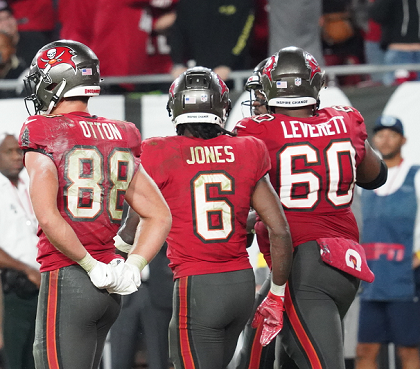 In early November, head coach Todd Bowles said publicly that he was still looking for Julio Jones to replace a chunk of Hall of Time tight end Rob Gronkowski's production from the 2021 season.
Bowles also went there when Julio arrived in late July and, unfortunately, it never really materialized.
The Bucs tried to replace Gronk (55 catches, 802 yards, 6 TDS and 39 first downs) and O.J. Howard (14 catches, 135 yards, 1 TD, 11 FDs) with Julio and rookies Cade Otton and Ko Kieft.
They came up short.
Julio's biggest plays this season were very un-tight-end-like, and he ended up with 24 catches for 299 yards, 2 TDs, and 13 first downs. Otton had a rookie season filled with growing pains but produced in the passing game with 42 catches for 391 yards and 2 TDs. He had 19 first-down grabs and caught 64 percent of the balls thrown his way; Gronk hauled in 61 percent last season.
Joe doesn't expect Julio back next season, and Joe really is looking forward to the Bucs hiring an experienced tight ends coach to develop Otton and Ko Kieft. If both those guys can take a sophomore step forward, that would go a long way toward improving the tight end blocking that arguably was Gronk's most valuable asset.
Frankly, Joe could see the Bucs drafting yet another tight end this year.
They could use more special teams help and, if a young quarterback gets the ball this year or next, quality tight end options become more important.
Former Bucs QB Josh Freeman never would have had his breakthrough season of 2010 without tight end Kellen Winslow getting 98 passes thrown his way (66 catches) and being one of the more reliable targets in the league that season.