Vita Vea Adds A New Injury
December 7th, 2022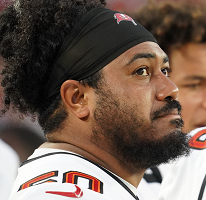 A fresh Buccaneers injury report for this week is out and there's one new injury on it.
That's actually good news for Week 14, and the Bucs are a very healthy club relatively speaking for early December.
Only five Bucs are on the injury list (Joe's not counting Cameron Brate's illness) and the team came out of Monday's game quite healthy.
Manbeast Pro Bowl defensive tackle Vita Vea already was playing on an injured foot and now "shoulder" has been added to his list of maladies. He was limited in practice today.
Cornerback Sean Murphy-Bunting (quadriceps) also was limited. Mike Edwards (hamstring), Tristan Wirfs (ankle/knee) and Antoine Winfield, Jr. (ankle) did not practice today. Brate was a full participant.