Todd Bowles Declares A Starting Running Back
December 28th, 2022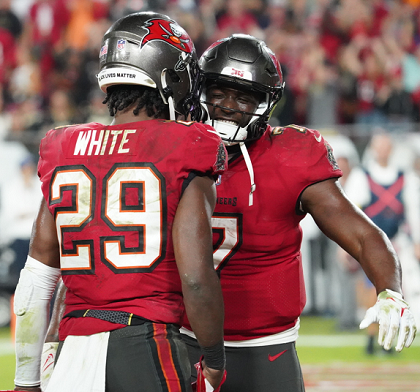 This was the first Joe had heard an official declaration as to who is the Buccaneers' starting running back.
When rookie Rachaad White got the start over Leonard Fournette against the Seahawks last month, Todd Bowles insisted the decision was only about what package the team wanted to roll out against Seattle.
Since then, the White and Fournette tandem has been characterized by the regime as a 1-2 punch — in no particular order. However, a different take was revealed yesterday.
Speaking on the Buccaneers Radio Network, Bowles was asked about the decision for running back playing time. He opened his reply as follows, "Rachaad's the starter, we know that. And then we'll put Lenny in after a couple of series, and then we'll just ride the hot hand …"
White has started the past seven games, but again, this was the first time Joe is aware of White being named the unquestioned starter. It was an interesting take by Bowles after Fournette just finished a big, workhorse game against the Cardinals on Sunday.
On Monday, Bowles seemed a little surprised that White didn't play much, which stunned Joe after hearing run-game coordinator Harold Goodwin talk last week about Fournette and calling him "lights out."
Man, this Bucs offense has been hard to make sense of this season.
#GoBucs Bruce Arians back at practice on this Wed.#Panthers week pic.twitter.com/mismhtn3l2

— rock riley (@realrockriley) December 28, 2022