"They're Not Convincing Themselves, Either."
December 29th, 2022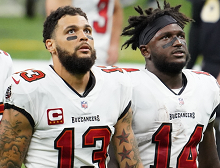 Whatever fans and media think of the Bucs is far less important than how players collectively evaluate themselves.
A former Buccaneer made that resounding point this week.
Joe's referring to blocking icon Michael Clayton, Tampa Bay's first-round draft pick in 2004. He sort of said on WDAE radio that the Bucs know they stink — for now.
"They're not convincing anybody; they're not convincing themselves, either," Clayton said. "The reality is you struggle against a team that's only won four games, that's really who you are. … We are also close to being a four-win team."
Clayton talked about the challenge of "overcoming self," and he firmly believes the Bucs will be a dangerous and confident postseason team — if they can beat Carolina and Atlanta to close the season with a winning record and a three-game winning streak.
"The physical aspect of the game, they have it. Ok. We've seen it. I know that it's there," Clayton said. "What they are experiencing is mental."
Clayton is not delusional. He is not saying the Bucs' available roster is the best in the business, only that their problems are less about talent and more about the mental side of the game.
In the playoffs, Clayton wouldn't underestimate the Bucs. From an opponent's perspective, he said, an inconsistent team like the Bucs can be very difficult to prepare for.