Tackling Woes Identified
December 15th, 2022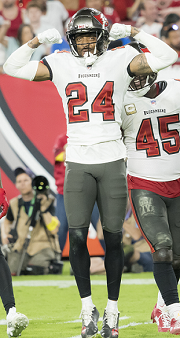 Joe wonders what Tom Brady thought when he saw Sunday's film of the Bucs defense.
Buccaneers legend Derrick Brooks set his thoughts free when it came to the poor tackling.
That was delivered on TAMPA TWO, Brooks' weekly show seen right here and at TheIdentityTB.com.
"We did not do a good job of tackling on the second level, or the third level in the defense," Brooks said. "Too many times … they got to the second line of the defense untouched. There paths were not altered. I mean it was one cut downhill; you saw the gap you take it. … It wasn't forcing them to go lateral. It was not forcing them to changeup or running style at all because of gang-tackling. And too many times one guy was left to make the play or to save the play and it didn't happen, whether we were not getting off blocks, we were overrunning gaps, whether we were pressing downhill defensively to those gaps. None of those things happened where we've seen them happen before."
Man, that was a depressing rant for a team that was battling for the No. 3 seed in the NFC playoffs.
Joe will hope and expect tackling to improve on Sunday at The Licht House.