Panthers Lose Top Cornerback
December 28th, 2022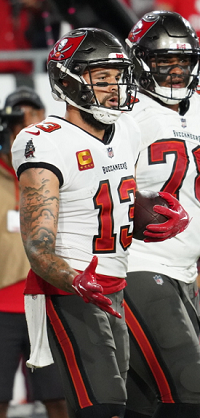 When the dust settles on Sunday's critical game against the Panthers at The Licht House, Joe doesn't want to hear the loser complain about injuries.
Nearly every NFL team is broken down this time of year. That's the league. You plan for it, you deal with it, and you don't cry about it.
Joe brings this up today because the Panthers will be without their stud starting cornerback Jaycee Horn for Sunday's game. His wrist is broken and he's headed to surgery.
In Charlotte, it's widely believed that Horn was screwed out of a Pro Bowl selection last week. Carolina's 2021 first-round pick out of the University of South Carolina is a total stud, three picks this season and play of lockdown performances.
In response, Carolina scrambled to sign old man former All-Pro Josh Norman, who has been on the street all season. But he's not expected to play much against the Bucs. He was a starter for the 49ers last season.
Joe remembers when the Bucs faced the Steelers in October when Pittsburgh was without T.J. Watt and several starting defensive backs. So Joe isn't steaming with confidence just because Horn is out. However, his absence should make a significant difference.