"My Guy, He Has His Mind Set On Something Totally Different From What We're Thinking"
December 23rd, 2022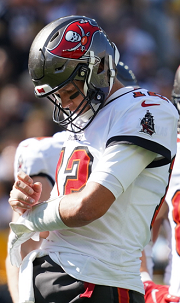 If you caught balls from Tom Brady for seven seasons and call Brady "my big brother," then Joe is going to pay attention when you talk about The Goat.
Former Patriots Super Bowl MVP receiver Deion Branch is that guy. He had two stints with the Patriots with four years on the Seahawks in between.
A guest of The Rich Eisen Show yesterday, Branch was asked about Brady's future.
Branch implied that he talks to Brady regularly but very little about football. "My guy, he has his mind set on something totally different from what we're thinking," Branch said.
Branch said he often asks Brady what he's chasing in the game since he already has the big records and he's reached such a level of greatness that history can never deny it. Brady laughs at the question, Branch said, adding that Brady's competitive side enjoys "pushing the bar" of what he can accomplish.
As for Brady playing next season, Branch said he does not know but nothing would surprise him, adding that Brady definitely has the discipline and drive to continue.