"Most Unsung" Leonard Fournette
December 8th, 2022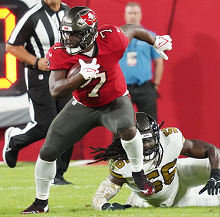 Joe thinks Leonard Fournette is about to get his starting job back.
Fournette didn't start against the Seahawks in Germany, and then he missed the debacle in Cleveland with a hip injury. He returned Monday night when again it was rookie Rachaad White getting the start — and the rock — to open the game.
Fournette, however, got the majority of the work and was more productive than White on the ground with 10 carries for 49 yards. (White was 9 for 28.) Each had six receptions, but it was Fournette who got the most love during a running backs chat during Todd Bowles' show on the Buccaneers Radio Network.
"I thought it was a good one-two punch. You know, Leonard came in and did an outstanding job," Bowles said. "I think he's one of the most unsung players of that [Saints] game. He ran it well. He caught the ball well. He got upfield. He got some timely yardage when he just caught three-yard passes and turned up and got eight, got nine, made it 3rd-and-short. He was part of the reason we were decent on third down."
Bowles went on to talk about how White showed great resilience coming back strong from his critical third-quarter fumble.
Joe thinks that fumble is in Bowles' head a bit. Joe knows how defense-focused head coaches freak out when it comes to turnovers.
Joe would be surprised if Fournette doesn't get the starting honor on Sunday at San Francisco, even if the White-Fournette workload doesn't change.