"Just Unbelievable"
December 31st, 2022
BY IRA KAUFMAN
Fans attending Sunday's showdown have an opportunity to show their love for a Buc icon who has endured a difficult year.
Flanked by friends and family, Bruce Arians will enter the Buccaneer Ring of Honor, joining former head coaches John McKay and Tony Dungy as symbols of the franchise's glory days.
"It's going to be very, very special," Arians told me this week. "Thank God they're giving me only two minutes to talk,"
There's a lot to talk about.
In 2019, Arians left the broadcast booth and announced his arrival at One Buc Place in no uncertain terms. Accountability would be the new watchword and players responded. One year later, in a season marked by a spreading epidemic, Arians guided the Bucs to a Super Bowl victory, closing with an 8-game winning streak.
"The thing I'm proudest about is the culture we've established here," Arians said. "Everyone is there for each other. I'd say that the proudest thing about that year was how our guys sacrificed to beat COVID. The sacrifice of our team was unbelievable."
As defending champs, the Bucs reached the second round of the playoffs before a heartbreaking loss to the Rams. That kicked off a challenging 2022 for Arians and his family.
He stepped down as head coach in March and his hand-picked successor,
Todd Bowles, is struggling with a 7-8 record, despite Tom Brady taking every snap. The Bucs can clinch the NFC South title by beating Carolina on New Year's Day.
Arians was hoping to see Byron Leftwich thrive as the unquestioned play-caller and coordinator, but Tampa Bay's offense has cratered, averaging a mere 17.7 points per game, well off the lofty standard set the previous two seasons with Arians at the helm.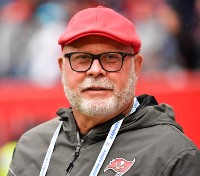 While the team faltered in October, Arians spent four days at Tampa General. Severe chest pains had doctors fearing a heart issue, but those fears were unfounded and Arians has been fine since his release.
He's back on his golf cart, cracking wise on the practice field and looking for any distressing signs he can pass on to Bowles or Jason Licht.
Yes, things are suddenly looking up for a two-time Coach of the Year who turned 70 this fall.
He's grateful for the Christmas present he just received — five days with his family in Arizona, marked by a Buc victory against the Cardinals. Arians didn't even bring his golf clubs, soaking up the time with his wife, Christine, and his children, Jake and Kristi.
Now the family has congregated in Tampa, awaiting Sunday's halftime ceremony. Who's coming?
"Oh God, my son has the list … brothers, sisters, cousins, friends from Arizona. It's a bunch."
Arians is no stranger to impressive honors. This one is the topper.
"Going into the Virginia Tech Hall of Fame was extremely special, but to get up there with Derrick Brooks, Rondé Barber, Warren Sapp and Lee Roy Selmon, the names up there are amazing," he said. "To be part of that group is just unbelievable."
At the age of 31, Arians was coaching the Temple Owls and a savvy defensive back named Todd Bowles. Almost four decades later, he's ready for his closeup at Raymond James Stadium.
What a long, strange trip it's been.
I asked Arians if he would have been shocked in 1983 to learn he would one day find his name on the facade of an NFL facility.
"Maybe not," he said with a chuckle, "because when I was 31, I thought I knew everything."
---
So, so many great offers now at Bill Currie Ford, home of the nationwide lifetime warranty on new and used vehicles. Start shopping!!!