"How Bad Do We Want It?"
December 3rd, 2022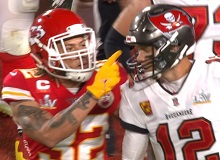 Tom Brady's ol' pal Tyrann Mathieu, the Saints' big-money safety, isn't big on scheme when he faces the Buccaneers.
As Matthieu told the voice of NFL Network, Rich Eisen, on The Roku Channel yesterday, worrying about disguising coverages goes out the window when you play Brady.
For the Saints on Monday against the rival Bucs, it'll be very much about "How bad do we want it?" Matthieu told Eisen. "It's going to come down to man on man," he added, and grinding out to the final whistle. Matthieu said preparing for Brady is more about getting your mind right and ready to not let up in any way.
As far as getting minds right, a huge question mark for Monday is Saints Pro Bowl cornerback Marshon Lattimore, who often seems to live in the head of Mike Evans. He hasn't played since Week 5 because of an abdominal injury but has had limited work in practice this week.
Joe almost would like to see Lattimore play. If his presence can help light a fire under the Bucs offense, then Joe is all for it.
Flash poll posted at 8:15 a.m.