Flat Lenny
December 19th, 2022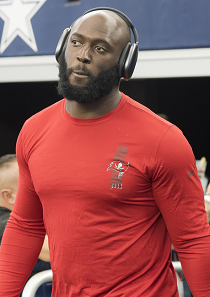 If you think it's been way too long since Leonard "Lombardi Lenny" Fournette has had a run of 20-plus yards, your instincts are correct.
No NFL running back is on a longer streak without a run of 20 or more yards.
Fournette is now up to 159 carries this season without a run of that distance. Nobody else in the league is close to that number. His last big run (including playoffs) was 47 yards against Buffalo on Dec. 12 of last season.
Joe's eye says Fournette has lost some juice. A lot of running backs trend downhill when they hit the 1,000-carry mark in the NFL. Fournette is at 1,249, including postseason, and he's caught 332 balls. That's a lot of punishment.
Joe doesn't think Fournette is washed. He can still run guys over, his pass blocking is strong and his feet and hands are good in the passing game. But Fournette is missing a spark.
It could be various injuries. But every veteran running back has dings and dents.
Joe hopes the Bucs can clinch a playoff berth before the season finale in Atlanta. A week off might help Fournette more than most players.