Courting Tom Brady
December 11th, 2022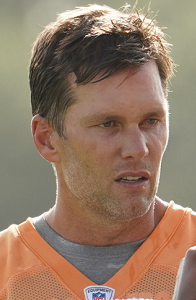 Big-name quarterbacks are huge targets if they make it to free agency.
And even as a guy closer to 65 than 25, Tom Brady falls into that category.
As of now, Brady has no contract for the 2023 season, and there's no word that the Bucs have graced him with a Buccaneer-for-life kind of offer. There's also zero evidence that Brady, aka the NFL leader is passes attempted and the NFC leader in passing yards, is fading significantly.
So logic says on Dec. 11, 2022, Brady wants to play next season.
Frankly, Joe became ill last week when 49ers head coach Kyle Shanahan, a true guru of offense, talked about Brady's 2022 game before assembled media.
"… He's kind of flawless in his technique, how he gets everyone the ball, and he's done that his whole career. But his throwing mechanics, they only get better each year. So, I feel like his arm's stronger now than it was 10 years ago, and his legs move just as good as they did 10 years ago," Shanahan said.
So is Shanahan courting Brady through the media? Joe thinks so. Remember, Shanahan and Niners GM John Lynch passed on signing Brady in the 2020 offseason. And Joe suspects it's viewed as a serious mistake by Niners fans.
Or is Shanahan just blubbering a bunch of smoke? If he's not, then what does it say about the Bucs' offensive gurus that they can't put points up with a genius quarterback who has "flawless" technique, a great arm and the legs he had when he was winning multiple Super Bowls?
Watch The Bucs tomorrow with Bucs fans and Ira Kaufman @BigStormBrewing in Clearwater.
12707 49th St. North.
Superior covered outdoor seating or inside.
Florida's best craft beer and a hell of a menu. pic.twitter.com/7Zz5ZxhArz

— JoeBucsFan (@JoeBucsFan) December 10, 2022