Bucs Leave Today For Sunday Afternoon Game
December 9th, 2022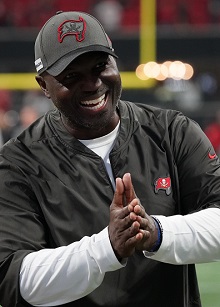 Todd Bowles left a day later than the Seahawks when it came to traveling to Germany last month, and he has a different strategy for this weekend.
Tampa Bay squares off against the 49ers on Sunday at 4:25 p.m. EST (Watch the game with Ira Kaufman at Big Storm Brewery in Clearwater!) But rather than leave Saturday for the other Bay area, Todd Bowles and the Bucs are flying out this afternoon.
Bowles said he wants the Bucs to get acclimated sooner and have their "normal Saturday" in in California.
Every coach is different on that front. Of course, the Bucs could have had a normal Saturday morning in Tampa and jetted out tomorrow in their charter jet.
Joe wonders if Tom Brady nudged Bowles on this. This weekend is a homecoming for Brady, who grew up in San Mateo, about a half hour drive north of where the Niners now play. Brady talked about plans to visit with family and friends, so maybe he wanted a little extra time.
The Bucs play on Christmas night later this month in Arizona, also a Sunday night. Bowles said the Bucs will fly out Friday, Dec. 23, for that game. Joe hopes that schedule was well received in the Bucs' locker room.