Wagering Alert On Tom Brady
November 27th, 2022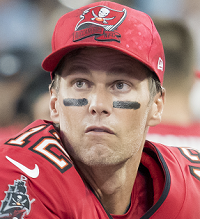 Joe's been known to make a wager or three and there's a fun and exciting trend out there that applies to non-bettors, too.
Tom Brady, per CBS, has a winning percentage of 84 percent when he has more than eight days of rest prior to a game. Think about that number, which includes bye weeks in the postseason, among other scenarios.
Of course, the Bucs last played 14 days ago against the Seahawks and they're facing a bumbling three-win Browns team.
Brady also covers the spread 67 percent of the time with eight or more days off. Tampa Bay is favored by 3 or 3 1/2 today.
Joe has talked about how today is a must-win game in every way except for mathematically in the miserable NFC South. Mentally, the Bucs need this "W." Joe and fans can handle reality; if you can't beat the Browns off a bye week and fall to 5-6, you're bad football team.