TV Map For Bucs-Browns Game
November 26th, 2022
Have Tom Brady, get TV eyeballs. That seems to be the FOX strategy this weekend as the Bucs play a losing team, yet a wide swath of America will get to see the game on free TV.
On Sunday, about 20-25 percent of the country (not if you live in South Florida) will get to watch the Bucs return to play in Cleveland to begin the stretch run, hopefully for the NFC South title. And folks can watch via their over-the-air local FOX affiliate.
Calling the game will be Kenny Albert and Jonathan Vilma.
Of course, Bucs fans can head to Big Storm Brewery in Clearwater, or their other taprooms in Odessa, Cape Coral and downtown Orlando at the Amway Center. And naturally, visiting your neighborhood Hooters is always a wise move. Bonus: Select Hooters in Florida carry Big Storm beer on tap!
(Streaming information and options will be included in the "Gameday Tampa Bay" post scheduled to publish on this here website at midnight.)
As always, TV coverage maps are courtesy of 506sports.com.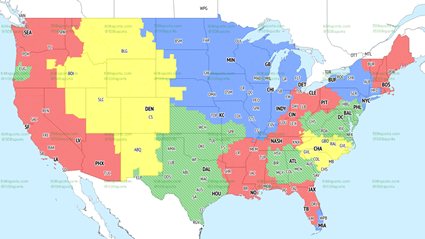 FOX Early-Window games
Red: Tampa Bay @ Cleveland
Blue: Chicago @ NY Jets
Green: Atlanta @ Washington
Yellow: Denver @ Carolina