Tom Brady Versus Davis Mills
November 28th, 2022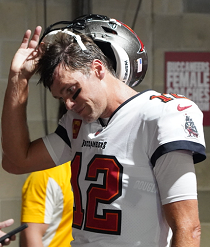 So which finds the end zone more often? The offense of the impotent, league-worst Houston Texans, or the one led by Tom Brady and elite receiving talent?
Relax. The answer is the Bucs offense, but the problem is Tampa Bay only has one more touchdown than the Texans. One!
Tampa Bay's offense has the greatest quarterback to ever play the game and a good and sometimes excellent defense getting the ball back in their hands. The Texans have a bottom-rung starting quarterback, Davis Mills, weaksauce receivers, dancing Dare Ogunbowale in the backfield and a miserable defense led by Lovie Smith.
Joe points this out because it illustrates just how wrong things are at One Buc Palace. Julio Jones has played a ton of the snaps in the past four games and still the Bucs offense hasn't found its footing — even with Chris Godwin being healthy and Mike Evans on the field.
Tanking yetserday to the miserable Browns coming off a bye week really has Joe in a deep, dark and bitter funk.