Todd Bowles: Tom Brady Could Have Made Some Better Throws
November 2nd, 2022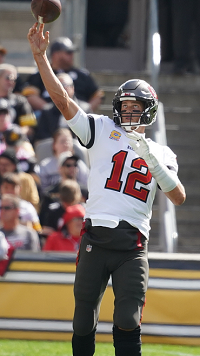 During a June visit to the Ira Kaufman Podcast, Bucs head coach Todd Bowles talked about how his team needs to play better around Tom Brady and how it must stop leaning on his heroics.
"I think if everyone gets to the mindset of, 'We need to make Tom's job easier not him make our job easier,' we'll be a better team," Bowles said at the time. "If we don't have to rely on the heroics, sort of speak, and everybody's doing their job and earning their keep, we'll be a better team … There was a few games that we shouldn't have even been in. If we take care of our business that way, more of a team-like thing, we'll be a better team."
That hasn't worked out.
And Brady isn't playing at his 2021 standard.
Speaking on the Buccaneers Radio Network yesterday, Bowles talked about the Bucs' all-encompassing offensive breakdown after the first two drives (10 points) against Baltimore on Thursday.
"He could have made some better throws," Bowles said of Brady. "We could have had some better adjustments down the field and the offensive line could have blocked better. It's all inclusive as a group and we gotta be clicking for four quarters."
And don't forget about the worst rushing attack in more than 50 years.
Bowles, however, liked the effort against the Ravens, even if a lot of fans questioned it. "Big picture takeaways, we played hard. We just didn't play smart enough," he said.
---
Todd Bowles Confidence Poll (Week 9)
Flash Poll posted at 7:32 a.m. Results of last week's Todd Bowles confidence poll are linked here.