Todd Bowles Talks Run Defense And "Brain Farts"
November 2nd, 2022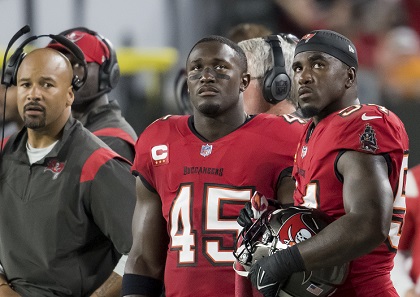 More "brain fart" talk today from Buccaneers head coach Todd Bowles.
Yes, Bucs football makes everyone think of flatulence and bowel movements these days.
At 3-5 a game behind Marcus Mariota and the Falcons, the Bucs are in crisis mode, although you wouldn't know it listening to Bowles. However, the team has passed on coaching and personnel changes for now.
Bowles talked about Thursday's second-half defensive fails today and mentioned what he said yesterday on the Buccaneers Radio Networks. Too many brain farts.
"We're losing games off a lack of technique and fundamentals in the second half where we have a brain fart here and there, so we went back to basics," Bowles said on radio.

"…  We misfit some things in the second half and we took some bad angles. And the tackling was shoddy. We understand we gotta get a lot better at tackling. In the first half it was good, in the second half it wasn't as much."
Man, that "mini-bye" sure didn't seem to invigorate the head coach or the locker room. Joe didn't get good vibes today at One Buc Palace.
Still, vibes and talk don't win games. Playing hard and playing smart is what puts up the Ws.
The "shoddy tackling" line shook Joe. It's miseason … tackle!