Todd Bowles Assesses Tom Brady
November 9th, 2022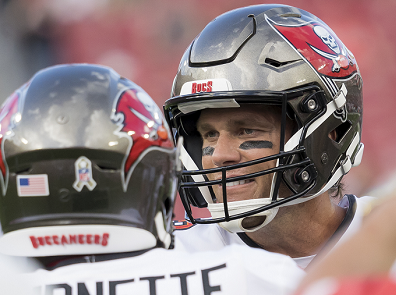 There were times during the Bucco Bruce Arians reign when the Super Bowl head coach would call out Tom Brady publicly for poor play.
That's not the vibe one gets listening to head coach Todd Bowles or offensive coordinator Byron Leftwich.
Bowles assessed Brady's game against the Rams and concluded that he was spot on as the Bucs limped to 16 points, including 10 in the fourth quarter.
"I thought he was locked in the entire night," Bowles told the Buccaneers Radio Network. "You know, we had some bad throws; they got a little bit of pressure. They only got one sack which is a good thing and we didn't turn a ball over against a ball-hawking secondary. That's pretty good for [Brady]. But we had precision throws. We had drives. Obviously, the [end zone throw] that got away from Scotty [Miller in the fourth quarter] would have been big. But at the same time, [Brady] never flinched, he made every throw he could possible make. I think he played a good ballgame."
As for Brady's late-game magic, Bowles says the way his quarterback dials in is beyond words.
"He's locked in," Bowles began. "You know, he's locked in. He understands what he has to do, where he has to go. It's just something that clicks. It's hard to describe. You can't really describe it. You can see it on the field; you can see it happening when he's just going with precision. He's going here, he's going there, he's going there. It's just a vibe he has, and he gives everybody else confidence when he does it. And, you know, that's just what the great ones do."
That hurry-up, two-minute-drill vibe from Brady is superior. Even a casual fan can see that he's dealing on a higher plane. So how about more hurry-up?
Joe gets the drawback of running a hurry-up offense, which is draining your defense if the offense is unsuccessful and off the field in a hurry. But perhaps the Bucs could find a balance there?
---
Ira Kaufman Talks Good, Bad & Ugly From Rams Game, Turnover Study, "Bounce," Ownership Evaluation & The Bye, Akiem Hicks, And More