"The First Time I've Seen The Swagger On This Team"
November 18th, 2022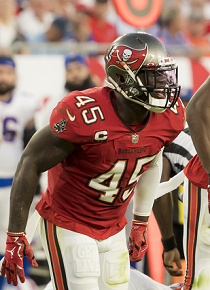 So how good did the Bucs look on Sunday against a good Seattle team?
One Bucs legend has a firm opinion.
"The first time I've seen the swagger on this team," Bucco Bruce Arians told former 2020 Bucs A. Q. Shipley and Drew Stanton on the The Bobbled Exchange YouTube show. "And defensively we looked like the Bucs, shutting down the run and getting after the quarterback."
Arians added that he loved the offensive mix, which featured the first strong performance by the running game since opening day.
"When the running game's going, it's easy, man," Arians said with love in his voice. "You guys know. When you can run the ball, you got everything you want in your playbook."
It's all looking up for the Bucs in Arians' mind, with what he says is Tampa Bay getting healthy and the bye week hitting at the perfect time.
Joe agrees with the "swagger" comment. Finally, the Bucs were physical for 60 minutes and they looked hungry. Rachaad White and other certainly brought plenty of juice. Hopefully, it wasn't just the energy from the wild German crowd.