Saved By The Cooper Kupp Slide?
November 8th, 2022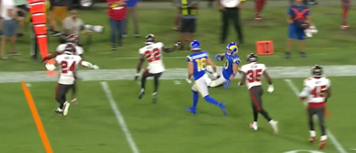 Many Rams fans haven't slept in days. They think their team was just one ill-timed slide from victory Sunday against the Bucs.
And they may be right.
The video is below. A screen shot is above.
On 2nd-and-10 late in the game deep on the Rams-6 yard line, Los Angeles handed off to Cooper Kupp on a sweep to the right side. Rather than fight for a first down and take the lane he had to work with after turning the corner, Kupp decided to take an early slide to stay inbounds. The Bucs called their second timeout and the Rams faced 3rd-and-5 with 1:40 remaining.
Los Angeles then got crazy conservative and ran up the middle, which led to a punt that helped set up the Bucs' winning score.
So Kupp, a Pro Bowl player and one of the toughest tackles in the NFL, passed on fighting for what might have been a winning first down — or a shot at a 3rd-and-short opportunity. He had a blocker and a lane.
The Los Angeles media was all over Kupp and Rams fans have been melting down.
"You're in that moment when you gotta make a decision," Kupp said. "Do you guarantee yourself the first down and potentially stop the clock or put your foot in the ground and cut back inwards? Where do you wanna draw the line? It happens quick."
Bucs fans can judge in the video below.
It's wild to think Kupp may have saved the jobs of multiple Bucs coaches, and it's also a little disturbing to think of how close the Bucs were to losing. Kudos to Anthony Nelson's hard work on the play to make life just a shade tougher – and wider — for Kupp.
Kupp doesn't get the first if he continues up the sideline, but if he cuts back inside?

I dunno, maybe? pic.twitter.com/RXIjPwcbla

— Cameron DaSilva (@camdasilva) November 7, 2022