Huge Day For The No. 3 Seed
November 27th, 2022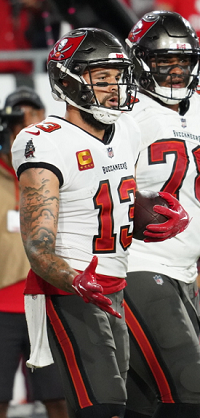 Joe's eyes are on the prize. And that's the No. 3 seed in the NFC Playoffs.
It's a safe bet the Vikings (9-2) and the Eagles (9-1) are going to slug it out for the top two seeds in the conference, (even though the Eagles should have lost to the bumbling Colts last week).
Anyone afraid of facing Jalen Hurts or Kirk Cousins in the playoffs?
The 49ers and Seahawks sit atop the NFC West tied with a 6-4 record. San Francisco is undefeated in the division, which means they own the tiebreaker edge on Seattle with the two teams scheduled to play again Dec. 15 in Seattle, a Thursday night game. The 49ers have a rough schedule ahead, including hosting the Bucs on Dec. 11.
The Seahawks have an easier road to the postseason, though the Bucs hold a head-to-head tiebreaker edge on them after beat Seattle two Sundays ago.
The bottom line is, as always, the Bucs have to win. If they go 5-2 or 6-1 in their final seven games, including a win against the 49ers, then the Bucs have a great shot to land the No. 3 seed.
If the Bucs lose today in Cleveland, well, then there's no reason to believe the Bucs are any good.
The Falcons (5-6) face the Washington Heinickes (6-5) at 1 o'clock. The slimy Saints (4-7) are at San Francisco. And while Joe feels dirty typing it, Joe will be rooting for New Orleans today.
---