Eagles Sign Ndamukong Suh
November 17th, 2022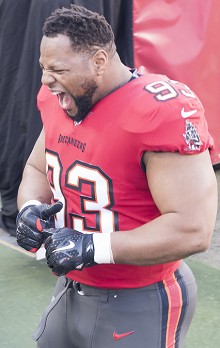 Former Bucs defensive tackle Ndamukong Suh was seeking a strong team and a strong contract this offseason. It seems he finally found both.
The Bucs passed on Suh through the spring and summer, even though he wanted to return for his fourth Tampa Bay season under his good friend Todd Bowles.
Instead, Bucs general manager Jason Licht handed a bucket of cash to free agent Akiem Hicks, who was known for being a lot more fragile and a little more explosive than Suh.
Today, Suh finalized a deal with the 8-1 Eagles. It seems like a perfect fit for him. Philly is a legitimate force and doesn't need Suh to play full-time. He was starter for the Bucs but cut his snaps significantly last season.
This will be a sad day for the sect of Bucs fans that has been pining for Suh's return.