Donovan Smith Talks Chemistry
November 25th, 2022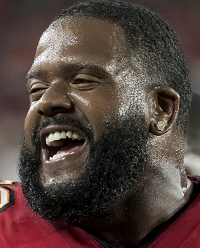 Has something changed on the Buccaneers' offensive line or are guys just playing a little better, along with Nick Leverett being an upgrade at left guard?
Left tackle Donovan Smith was asked about the biggest key to improvement on the the O-line during his chat with the Salty Dogs website, an official team show.
Joe thought Smith would just say something vanilla like players are just executing better, but he went a little deeper.
"Just chemistry, honestly," Smith replied. "To be able to understand and know how players play and what, you know, what's needed, how they think on the field and everything like that plays a part. So chemistry as well, but then just everybody progressing as a player, winning your 1-on-1 battles. That's the biggest thing out there."
Joe hopes Smith is accurate. Because if chemistry was an issue and it's now improved, then that shouldn't fade away. That would represent lasting change if the current line can stay healthy.
Smith is very confident. "Put it on our back," he says.
---
TODD BOWLES CONFIDENCE POLL (WEEK 12). Flash poll posted at 9:07 a.m. Poll closed at 11:01 a.m. Last week's results linked here.