"Dangerous" Bucs
November 18th, 2022
So now it's mid-November. When the Bucs next take the field it will be after Thanksgiving. In other words, the playoff push.
And while the Bucs, as Bill Parcells would say, are an average team, that doesn't mean they cannot rise up and clock an unsuspecting foe.
Case in point last week in Munich. The Bucs, mostly floundering since the beginning of October, faced the first-place Seahawks. And what happened? The Bucs punched the Seahawks in the mouth and played their best game of the season.
Looking at who the Bucs have beaten, and their sorry division, former Bucs beat writer and current Pro Football Talk staffer Charean Williams suggested playoff teams better be careful if they are matched up against the Bucs.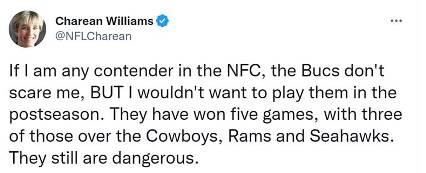 The Bucs are dangerous because they have weapons. Of course, what fool of a defensive coordinator would actually want to face Tom Brady in the playoffs? Especially when he has Mike Evans and Chris Godwin and maybe Julio Jones, too?
Defensively, coaches must find ways to tangle with guys like Vita Vea or Lavonte David or Antoine Winfield, and others. In a blink of an eye, these guys can create a turnover or put a key offensive player out.
The Bucs may not be a good team ("You are what your record says you are.") but they are dangerous.
Just ask Pete Carroll.