Chris Godwin Gets "100 Percent" Label
November 17th, 2022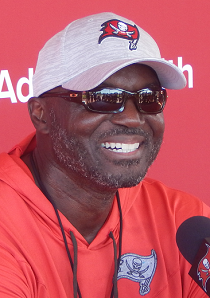 Great chatter from Todd Bowles!
After watching the film of Sunday's impressive Bucs victory, head coach Todd Bowles didn't hold back when talking about the progress Chris Godwin 11 months after blowing out his knee (ACL) and 10 games of the regular season.
"He looks 100 percent now," Bowles told the Buccaneers Radio Network. "He's out there doing everything he [was] doing before he got hurt and you're just happy to see it."
Godwin had one of his best games of the season Sunday, with 6 catches for 71 yards and his first touchdown of the year, and he looked a step more explosive.
With a bye week here, the great news on Julio Jones  and Mike Evans on the cusp of history, the Bucs receiving corps is in outstanding shape.
What next? Russell Gage's hamstring healing and Scotty Miller stopping his kangaroo jumps?