Bucs Playoff Odds Improve
November 9th, 2022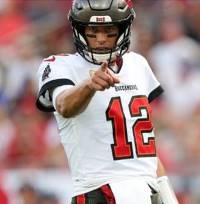 A win is a win and there is no need to apologize for a win. And Joe has the evidence that Bucs coach Todd Bowles won't send out any sympathy cards to dudes who didn't like the Bucs winning on Sunday.
And here is why: The Bucs chances of making the playoffs increased by 14 percent. Where is Joe getting this intel? From his good friends at Football Outsiders.
They do a weekly playoff percentage chart and with the Bucs beating the Rams and moving back into first place, the Bucs now have a 66.2 percent chance of making the playoffs.
The Bucs have a 59.9 percent chance of winning the division. Tampa Bay also has a 6.3 percent shot of making the playoffs as a wild card.
The way Joe looks at it, there is no way the Bucs will make the playoffs unless they win the weak NFC South. And the percentages suggest that.