A Countdown Nobody Wants To Think About
November 5th, 2022
BY IRA KAUFMAN
There may be a bright side to the current sad state of affairs surrounding the 2022 Bucs — but fans aren't going to like it.
When you have Tom Brady taking snaps for your franchise, there's no choice but to go all in. That's understood and it's an approach that has served this club very well for the past two seasons. But Brady's time with Tampa Bay is growing short. In fact, if the Bucs don't snap out of their prolonged stupor, Brady will likely suit up only nine more times as a Buccaneer.
That's where the silver lining comes in, the one Buc supporters don't even want to think about.
This 3-5 start could be the springboard for a disastrous season. We'll know soon enough, but there's a decent chance Tampa Bay will enter the 2023 draft with a premium pick.
That scenario would have sounded preposterous back in training camp.
Guess what? Things have changed. And even though the NFC South is a disaster zone, there's no guarantee the Bucs will repeat as division champs.
At the moment, the only teams with less than three wins are the Lions, Panthers, Texans, Jaguars, Steelers and Raiders. Should the Bucs continue to falter, they may have an opportunity to do something unique in their 47-year history:
Draft and develop a quarterback.
Only four quarterbacks have been chosen in the first round by the Bucs — Doug Williams (1978), Vinny Testaverde (1987), Trent Dilfer (1994) and Jameis Winston (2015). Testaverde and Winston were selected first overall, Dilfer was picked at No. 6 and Williams went off the board at No. 17.
From a Buc perspective, the results have been awful. None posted an overall winning record before leaving Tampa Bay.
Only Winston finished his Buc career with more TD passes than interceptions. Only Winston (2015) and Dilfer (1997) earned a single Pro Bowl berth.
To be fair, Williams and Dilfer won Super Bowls as starters with other organizations. Testaverde found success with the Browns, Ravens and Jets after leaving One Buc Place.
All you need to know about the Bucs and this quarterback quagmire is this: no one under center drafted by Tampa Bay has received a contract extension from the Bucs. Not one.
Think about that.
Jason Licht could change that wretched track record because the 2023 draft features some impressive quarterback prospects who might offer a fresh face for the NFL's oldest team.
Alabama's Bryce Young and C.J. Stroud of Ohio State top the list, with Tennessee's Hendon Hooker closing fast. And why not? Anyone watching Hooker shred Alabama for 385 yards and five TD passes in that epic shootout against Young had to be impressed by his poise, smarts and athleticism. The big knock on Hooker is he will turn 25 by draft day.
At 6-foot and 194 pounds, Young doesn't fit the typical profile for NFL quarterbacks. Still, he has thrown 65 TD passes and only 10 picks in the past two seasons and NFL scouts like his intangibles.
Stroud may go first overall. He's a gifted 6-foot-3 quarterback who has thrived since replacing Justin Fields in Columbus. Stroud is a 71 percent passer with elite mobility, boasting a 21-1 ratio of TD throws to picks.
They're already salivating about these guys in Charlotte, Detroit and Houston. Unless the Bucs collapse, it won't be easy for Licht to negotiate his way to a better draft position near the top.
Even the GOAT has an expiration date. Without Brady, it's all about finding the right guy to replace him, someone to build around.
Someone who ends up worthy of that elusive second contract.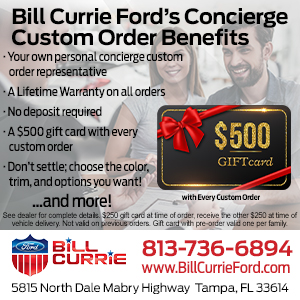 ---
BREAKFAST AT BIG STORM!
With Ira Kaufman and Bucs fans! 
12707 49th. St. North, Clearwater. Sunday, Nov. 13 at 9 a.m. Kickoff at 9:30 a.m. Bucs-Seahawks in Germany.
Great breakfast menu. Bloody Mary bar. Mimosas. BEER! Giveaways. (Lunch menu kicks in at 11 a.m.)