Would The Tom Brady Divorce Report Affect His Bucs Future?
October 4th, 2022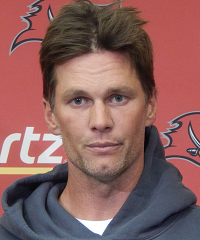 A report today from a Tom Brady business affiliate notes that the famous Brady couple is headed toward divorce.
It comes from the New York Post, which is owned by FOX, the company set to employ Brady as a game announcer/network ambassador when his football playing days end.
It's easy to call the Post a "trashy tabloid," but it's nowhere near a complete freakshow and it's owned by people in bed with Brady.
The report says Brady and wife Gisele have each secured divorce counsel and will be dividing up their assets.
Joe's only interest here is Bucs football. And Joe has to wonder whether being a single guy might keep Brady playing beyond the 2022 season. He has said repeatedly that his future ex-wife doesn't want him to play football.
Sorry, but Joe's stomach isn't ready for the Kyle Trask, Blaine Gabbert or Andy Dalton era. So Joe's very interested in everything that could affect Brady's future.