What Tom Brady Misses (Or Does He?)
October 20th, 2022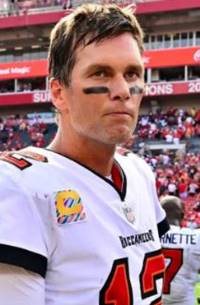 In breaking down the NFL after Week 6, a former NFL suit understands if Bucs fans want to freak out.
Michael Lombardi, a former coffee fetcher for Bill Walsh, Al Davis and Bill Belicheat, has not been impressed at all with the Bucs' offense and believes it may have hit bottom with Sunday's vomiting all over the field of Agriculture Stadium in Pittsburgh.
And Lombardi doesn't know if the Bucs can get up.
"Houston, we have a problem," said Lombardi, who in previous editions of his podcast "GM Shuffle" has been a big booster of Bucs coach Todd Bowles. "They were horrendous. They were 1 for 4 in the red zone. They can't run the ball, right? They can't run the ball.

"They had too many penalties, unfortunate penalties. They let a kickoff return back to the eight. That hurts them. You can say whatever you want, but this Tampa offense [is off]."
Lombardi was handed bait by his co-host Femi Abebefe mentioning Brady's wedding-attending ways, separating himself from the team on Saturday. Lombardi wouldn't go there.
"Brady's still throwing it well, moving the ball, makes plays," Lombardi said.
Lombardi, Joe believes, correctly said Brady misses foot-rubbing Rob Gronkowski. But Joe almost ran off the road when he heard Lombardi say Brady cannot dominate because he doesn't have his kind of players to throw to.
Lombardi said Brady needs a James White in the backfield to catch short passes. Um, has Lombardi not heard of Playoff Lenny?
Then Lombardi said Brady needs a Julian Edelman clone to succeed at the high highest level and seemed to ho-hum dismiss Mike Evans as "He's a good player."
Now stop it! Joe is personally sick of the New England crowd trying to make this James White — he's out of football — into Roger Craig II or Marshall Faulk, Jr. So he caught passes in the flat from Brady, big deal!
You know one big reason Brady threw so often to White? Because Brady didn't have the downfield receivers he has with the Bucs! If Brady had the same receivers, he never would have left New England! So stop it with this Edelman and White doggerel!
Are we talking about the same quarterback who in his mid-40s threw for 10,000 yards (9,949 to be exact) the past two years and won 29 games including a Super Bowl? How in the world did he do that without Edelman and White?
Just because Bucs receivers never had to go through boot camp with Belicheat and they didn't kneel at his altar and give away half their salaries to be bit players in the Belicheat assembly line that doesn't mean they aren't great.
Stop with this crap that unless someone has been blessed by the hand of Belicheat they are somehow lesser players. That's insulting.
Lombardi summed up the Bucs with this and he may be right.
"They don't look good to me," Lombardi said. "They haven't looked good all year, to be honest with you."
On offense, no, they have not.
Watchya gonna do, Byron?