"We're A Team That's Really A Measuring Stick For Every Other Team"
October 6th, 2022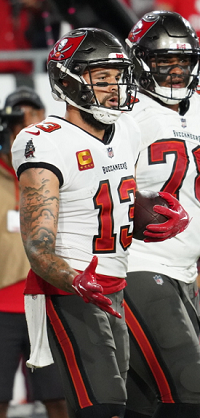 Consider that the Atlanta Falcons, Sunday's Bucs opponent at The Licht House, has not had a winning record within a season since 2017.
Joe's not talking about a year's final record. Joe's referring to Atlanta not having a winning record at any point in the 2018, 2019, 2020 and 2021 seasons.
So it's easy to understand why Sunday is almost like the Super Bowl for the 2-2 Falcons, winners of their last two games.
Second-year head coach Arthur Smith has his team playing very hard and beating the Bucs would represents an incredible statement by his regime and a potential turning point for the organization.
So do the Falcons have extra motivation for Sunday? Tom Brady doesn't seem to think so.
Brady said in the new In The Current feature at Buccaneers.com that the Bucs are one of those clubs that every opponent wants to hammer. "We're a team that's really a measuring stick for every other team," Brady said.
Of course, Brady is correct. Even though they Bucs aren't coming of a Super Bowl win, they're still the proverbial "hunted" because of Brady's presence and the team's superstar-laden roster.
That will not change all season. Still, it shouldn't be a factor Sunday. The Bucs are better than Atlanta … unless they're not when it counts.