TV Map For Bucs-Stinking Panthers
October 22nd, 2022
It seems to be a sign of the times. As the Bucs struggle to be respectable, they are afforded smaller television assignments, accordingly.
On Sunday, unless you live in Florida, the Carolinas or New England, you will have to find a watering hole to watch the Bucs or utilize the greatest invention of man since the remote, NFL Sunday Ticket.
Face it: The Bucs are floundering and the Stinking Panthers are packing it in, firing their coach and hosting a firesale. Not exactly compelling TV.
Calling the game for FOX will be Kenny Albert and Jonathan Vilma.
Of course, Bucs fans can head to Big Storm Brewery in Clearwater, or their other taprooms in Odessa and downtown Orlando at the Amway Center. And naturally, visiting your neighborhood Hooters is always a wise move. Bonus: Select Hooters in Florida carry Big Storm beer on tap!
(Streaming information and options will be included in the "Gameday Tampa Bay" post scheduled to publish on this here website at midnight.)
As always, TV coverage maps are courtesy of 506sports.com.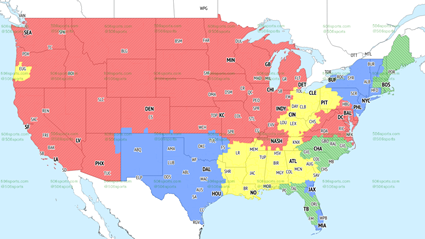 FOX Early-Window games
Green: Tampa Bay @ Carolina
Blue: NY Giants @ Jacksonville
Red: Green Bay @ Washington
Yellow: Atlanta @ Cincinnati