Todd Bowles Contradicts Himself On Team "Toughness"
October 28th, 2022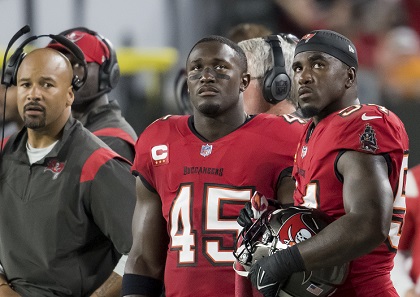 Exactly 10 days ago, Todd Bowles said on radio that his Buccaneers have toughness problems.
Today, and two losses later, he said the team has no toughness deficiencies.
Here's Bowles' quote from the Buccaneers Radio Network on Tuesday, Oct. 18:
"We were bad on 3rd-and-short, even 3rd-and-inches, 3rd-and-1; we gotta find a way to get one yard," Bowles said. "We got some tough guys up there. We gotta understand what we are and who we are going forward, as opposed to trying to make a whole bunch of different plays, and we gotta be better at that. … We gotta be tougher up front. We gotta be tougher up front on both side of the ball. Plain and simple."
And here's what Bowles said today at his day-after news conference following last night's home loss to Baltimore.
Bowles was asked about the Bucs' struggles to play with fire and aggression for four quarters.
"The mentality is there," Bowles began. "You know, the mentality is always there, then it's about playing fundamentally sound, not trying to press too much and doing the right thing when your number is called upon. Really, that's the four quarters of it. It has nothing to do with the toughness. We know we have toughness. We just gotta play smart for four quarters."
Yes, when your team is 3-5 and you have no answers, or at least none you care to share publicly, that's often when statements tend to contradict.
Fans can decide what Bowles really thinks about the Bucs' toughness. Is it today's version, or that of 10 days ago? Or does Bowles think they're tougher today but just failing miserably?
Regardless, nobody watches the Bucs and says, 'Man, that's a physically tough bunch of hardnose players.' And that ultimately falls on the head coach.