The Bucs' Path To Greatness
October 24th, 2022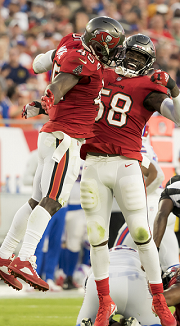 Yeah, Joe realizes most Bucs fans are in full pessimist mode after witnessing arguably the worst two weeks of Bucs football this century.
However, all is not lost.
In no particular order:
* The Bucs are in first place in the NFC South with a 3-4 record, owning the tiebreaker with Falcons.
* If the Bucs can find wins in 2 of their next 3 games, then they'll be sitting at 5-5 at their much-welcomed bye week. That's hardly a terrible position to be in for a postseason run.
* Tom Brady is healthy. And even if he was distracted (whatever the hell that means) in recent weeks, in every game he makes A-list throws and Joe's not worried about Brady's football brain or processing ability. Maybe the Bucs' woes the last two weeks will force a radical change prompted by Brady no longer waiting for coaches to spark the team/adjust.
* The Bucs should be getting healthier and now have a better sense of their offensive line limitations. Joe has no faith in Byron Leftwich, but he's hardly the most powerful guy at One Buc Palace, and there are plenty of offensive minds to lean on.
*The schedule remains very favorable, even though the Bucs can't be counted on to beat anyone. It's not like Tampa Bay has a brutal schedule that would be rough even if they were playing decent football.
*The defense is not ugly. There are problems, but it's in no way a train wreck, and Joe believes the defense still has the ability to win a game or two for the team.
Regardless of your perspective, the Bucs are nearing the edge of a cliff. Turning around or walking along the cliff remain options, and it's very hard to believe Brady won't go absolutely wild trying to fix the entire team in the coming hours.
Joe is not without hope.
Find your way to 5-5. Reset the team at the bye week and get back to being a dangerous playoff club. That's sort of what happened two years ago.