"The Best Tackling Safety I've Ever Seen"
October 26th, 2022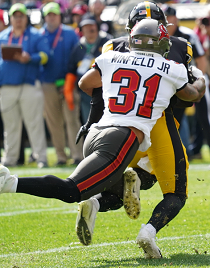 It sounds like general manager Jason Licht drafted two Hall of Fame players in 2020.
That's what Joe walked away with after hearing Rondé Barber on the Buccaneers Radio Network this week.
After gushing about All-Pro right tackle Tristan Wirfs — who doesn't? — Barber moved on to safety/nickel cornerback Antoine Winfield, Jr.
"He's the best tackling safety I've ever seen," Barber said.

"If there was a player that could define that role, safety/nickel, it's already him. I don't know anybody that's done it better. Plays great in space, already mentioned how good of a tackler he is, he has awesome anticipation, and he reads offenses as good as anybody I've ever seen."

"… If you ask me, he's the best player on the field."
Joe agrees that Winfield is a very special player and his tackling has turned elite. Last night on the Buccaneers Radio Network, head coach Todd Bowles lamented the loss of "our best tackler," referring to Winfield currently out of action and in the concussion protocol.
However, Joe can't shake that Barber once said a former Bucs safety had "the best movement I have ever seen at safety." If Joe typed that guy's name here, some fragile Bucs fans would have a nervous breakdown.
Regardless, Winfield is a huge loss for the Bucs against the Ravens tomorrow night, but Joe feels great knowing he'll be back and is likely to put the defense on his back in a game or two later this season.
Winfield is that good.