Stinking Panthers Having A Firesale?
October 11th, 2022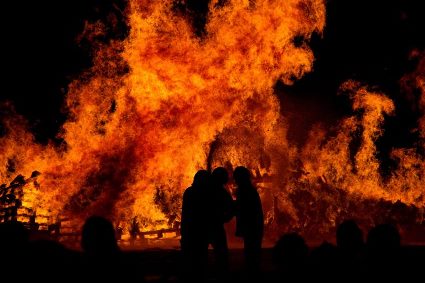 So yesterday, any semblance the Stinking Panthers had of making the playoffs, well, strongman owner David Tepper decided to throw the towel in on the season and look to the future.
He canned coach Matt Rhule.
Joe doesn't think this good news for the Bucs as the Stinking Panthers were woeful with Rhule and were in contention for the No. 1 overall draft pick in 2023. With a new coach, hey, things can only get better. And the Bucs play them twice this season.
Now Joe was reading Jonathan Jones' column on the Rhule firing and Jones believes the Stinking Panthers are going to have a firesale.
Teams have been sniffing around the Panthers in recent weeks, checking their pulse on the good, young players on the roster. I expect teams to place calls on Christian McCaffrey, D.J. Moore, Brian Burns and Derrick Brown.

That doesn't mean Carolina GM Scott Fitterer even has to listen, especially right now with another three weeks before the trade deadline. But a star running back looking at another rebuilding team? A talented wide receiver early into his second contract? A Pro Bowl defensive end ready for his second deal? A Pro Bowl caliber defensive tackle finally hitting his groove in year three? Each one of those players — to some degree or another — is tantalizing to the majority of the NFL.
OK, why not have fun with this? If the Bucs are really all-in for this season, why not make a trade with the Stinking Panthers, even if they are going to eat most of the salaries, which would make the players more movable.
The Bucs are struggling to keep a receiver on the field not named "Mike Evans" or "Chris Godwin." D.J. Moore has never had that problem since entering the league in 2018. He's missed two games total in his NFL career.
Brian Burns, are you kidding Joe? You can never have enough pass rushers. If Carolina agrees to eat a good chunk of his salary, this is a total no-brainer.
Joe thinks Burns is one of the most underrated young pass rushers in the league. Burns did have his fifth-year option exercised by the Stinking Panthers so Joe isn't sure if this would be a drag on a potential trade.
So yeah, if the Bucs are really serious about winning it all this year, Carolina has players that could really help.
The trade deadline is exactly three weeks from today, Nov. 1 at 4 p.m.
Would the Stinking Panthers be willing to trade players to a division foe? That's another question.