Safe And Mentally Sound Tom Brady
October 8th, 2022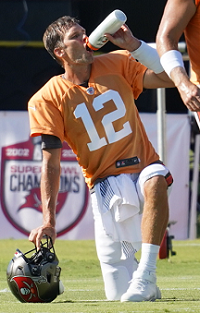 Not only is Tom Brady throwing accurately this season to a wide variety of receivers, many of which are new to the team, Brady leads the league in a category that tests his mind.
Joe has written about the "Time To Throw" stat processed by the technology of official NFL NextGen stats. The stat tracks the average time a quarterback takes from the snap of the ball to its release.
In 2022, Brady leads the NFL with an average of 2.39 seconds "Time To Throw." Brady led the NFC last season at 2.5 seconds.
Joe believes it's great evidence that Brady's command of the Tampa Bay offense is improving. He's processing like a beast while completing 68.4 percent of his throws.
Pass protection for Brady was strong Sunday against the Chiefs when he dropped back to pass 53 times and was sacked once by a free blitzer he didn't see. Donovan Smith was back in the lineup at left tackle and Brady wasn't running for his life or getting smacked around much.
Joe is really fired up for a huge Brady passing day tomorrow.