Righting The Ship
October 22nd, 2022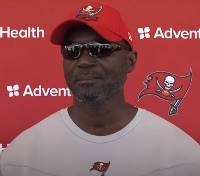 So are the Bucs changing things how they practice? You be the judge.
Yesterday Bucs coach Todd Bowles was asked how former Stinking Panthers running back Christian McCaffrey getting traded to San Francisco changes the Bucs' prep work for tomorrow's game in Charlotte.
Bowles said the team is basically taking the tactic that CMC got hurt and won't be available. However, Bowles noted his team is turning its focus inward on how it can improve.
"The leadership was great, the effort has been outstanding all week, it's just got to carry over to Sunday," Bowles said. "We understand we lost a game but we're still tied for first place, it's early in the process.

"We're going to work out some kinks and I thought we did a lot of good things this week. We've just got to carry it over."
Well, here is what Bowles didn't say: The Bucs could have the best week of practice, everyone dialed in, good attitudes, good effort, and if the offensive coordinator has a moronic gameplan, it won't matter.
That game plan last week on offense Pearl Harbored just about any chance the Bucs had to beat the lowly Steelers.
---
Flash poll posted at 8:23 a.m. Last week's results are linked here.