Problems At Home
October 3rd, 2022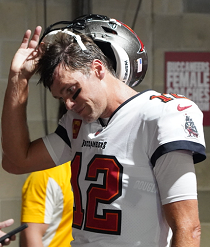 No, this post isn't about Tom Brady's personal life. Stop being a gossip hound.
After being on a roll that saw them win 11 of 12 home games including a Super Bowl, our beloved Buccaneers have now lost three consecutive home games dating back to January's loss to the Rams in the playoffs. And in all three losses, including last night against the Chiefs, the Bucs started flat.
In fact, the Bucs were outscored a combined 62-23 in the first halves of those three games. In the first quarters? The Bucs were outscored 31-9.
Joe is not big on coincidences when it comes to football. So it's downright disturbing the Bucs have been mauled at the start of their last three home games.
Todd Bowles, Byron Leftwich, Tom Brady and the other team captains, maybe even Bruce Arians, too, need to get in a room this week and figure out why the Bucs aren't coming out with their hair on fire before sold out stadiums in prime time games.
If the Bucs' brass wants to pretend the last three home-game starts are a coincidence, well, then they do so at their own peril. Joe believes Team Glazer should pick up the phone today and demand that meeting of the minds happens and request a summary of the findings.
Joe wonders if a Tom Brady-led Patriots team ever came out flat in three consecutive home games and lost them all? Perhaps Joe will do the research later today.