Mike Pereira Blasts Idea That Tom Brady Draws More Flags
October 15th, 2022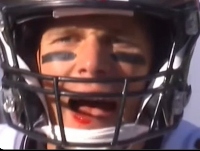 Mike Greenberg is full of it.
Last week, the dude who brags he has never eaten any sort of food and will never eat any sort of food with his hands (yes, he uses a knife and a fork to eat sandwiches and thinks anyone else is a prehistoric savage) came right out and claimed the refs let Tom Brady get away with calls because he's Tom Brady.
On the same show, former Jets and Bills coach Capt. Lou Albano didn't fully disagree.
Mike Pereira says this is nonsense.
The former head of NFL officials and current FOX rules analyst has access to data of flags and penalty trends straight from the NFL. And in speaking on the podcast "Eye Test for Two" with Clark Judge, Pereira says it is complete nonsense to accuse the league of having a second set of rules for Brady like the non-basketball association did for Michael Jordan.
"Nobody buys it," Pereira scoffed on the podcast. "Numbers dictate Brady is not given any extra advantages at quarterback."
Pereira went on to call this theory "a myth" and wrongheaded, and he was adamant Brady does not get protected.
"The game moves too fast to favor one player," Pereira said.
Joe has written this before and will type it now. Again: Remember last year in the playoff loss to the Rams when Von Miller clobbered Brady with a helmet upside the chin leaving Brady with a bloody mouth?
Well, not only was Miller not flagged, it was Brady, the victim, who got a personal foul for complaining! That was overwhelming evidence that if anything, Brady gets fewer breaks than other quarterbacks.
Yes, people are still stomping mad that Jerome Boger threw a flag on Grady Jarrett of the Dixie Chicks for sacking Brady, claiming it was roughing-the-passer.
Some protection!