Less Defenders, Less Success
October 17th, 2022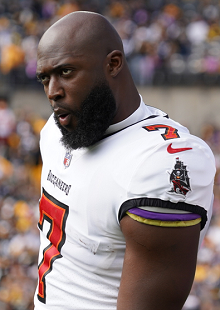 Joe remembers when Leonard "Lombardi Lenny" Fournette joined the Bucs and was all smiles because he would no longer be running against stacked defensive boxes.
His prediction was accurate.
The concept was simple: defenses would have the respect the Bucs' stud passing targets and wouldn't "stack the box" with eight or more defenders.
Lombardi Lenny has had much fewer bodies to avoid since arriving in Tampa. NextGen Stats tracks that data with sensors in players' equipment, and Fournette has been among the backs running against the fewest defenders in the box.
For example, before yesterday's game Fournette was hammering away against an eight-man (or more) box on only 20 percent of carries. Twenty-four NFL running backs were facing tougher odds, including 13 running backs at 25 percent or more.
Again yesterday, Fournette had plenty of unstacked boxes to face in Pittsburgh. And Tom Brady's friend Charlie Weis, the former Patriots, Jets and Chiefs playcaller, was grumbling about it this morning on SiriusXM NFL Radio.
The league-worst Tampa Bay run game (total yards and yards-per-carry) is the real deal, Weis said, as in really bad.
Weis cited teams not loading the box on Fournette, including Pittsburgh, and yet he still can't get it going since opening night against Dallas.
As Joe wrote yesterday, it's all got a very Doug Martin feel to it.
Can someone please get a faith healer to Ryan Jensen's house?