Heroic Hustle
October 17th, 2022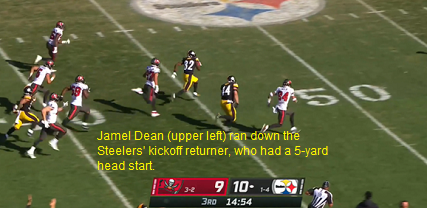 Joe's not sure if Bucs kickoff artist Jake Camarda is ordered to kick balls out of the end zone.
Joe sure hopes he is.
One could make a flimsy argument that miserable kickoff coverage cost the Bucs dearly in Pittsburgh yesterday, the site of perhaps the biggest upset this NFL season.
Joe thought the Bucs would come out to start the second half, trailing 10-9, with a raging fire after being embarrassed by a severely undermanned Pittsburgh team in the first half. Instead, the opening kickoff was taken 89 yards by backup Steelers returner Steven Sims, who admitted after the game that his lingering eye injury from last week was screwing up his vision.
Sims caught the kickoff at the goal line and ran untouched to the Bucs' 12 yard line where he was chased down from behind by a heroic hustle play from Jamel Dean, who fought off a block and exploded after Sims like he was fired out of a cannon. Rookie Zyon McCollum twice missed Sims on the play.
The Bucs kept Pittsburgh out of the end zone. They kicked a field goal after a 3-and-out.
Maybe, just maybe, the Bucs win if Camarda kicks the ball out of the end zone, or if the Bucs hadn't turned Sims into Devin Hester.