Five Things
October 17th, 2022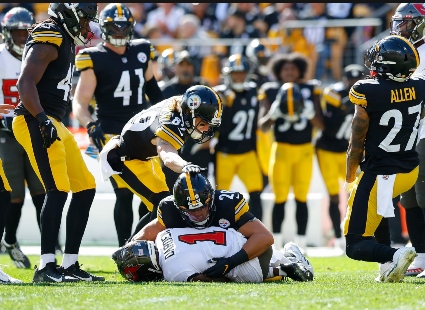 Joe's head is still throbbing. It's been Advil City since last night. And Joe didn't touch a drop of alcohol (though Joe felt like doing a John Belushi in "Animal House" and chugging a bottle of Jack. It's Monday, so let's get going.
Pittsburgh-Unready
This game was such an atrocious, irresponsible coaching job by Bucs offensive coordinator Byron Leftwich. It was the worst head-up-your-tailpipe job Joe has seen since the Tennessee-Ready game to open the 2015 season.
Tennessee-Ready was the debut of Jameis Winston. All that summer, head coach Lovie Smith preached if not boasted the Bucs would be "Tennessee-Ready." Hoo, boy!
Even worse for the Bucs, it also was the debut of runaround quarterback Marcus Mariota, the guy drafted one pick after Jameis. The Oregon quarterback was very much on the Bucs' draft board had the Bucs turned up something untoward enough on Jameis to scare them off.
Lousy Lovie even watched Mariota play in college in person and attended his Pro Day at Oregon. So Joe figured Lovie, a defensive coordinator at heart, watched a lot of tape on Mariota given that the Bucs were going to draft a quarterback. When Mariota was picked by Tennessee, then-Titans coach Ken Whisenhunt installed an Oregon-like spread-option offense to help Mariota adjust to the NFL.
But on opening day, Mariota and Tennessee ran over the Bucs like Lovie never once saw a snap of a spread-option. The hapless and helpless Bucs defense was gouged like it was Rice or Indiana. It was like the spread-option completely and totally took Lovie by surprise. It was embarrassing.
Joe later learned Team Glazer was so irate about the loss they could barely speak to those in football operations for weeks. It was the beginning of the end for Lovie.
A few weeks later came the Capitol Collapse, which for all intents and purposes sealed Lovie's fate. Simply put, Team Glazer did not like that.
Yesterday reminded Joe of that sad Bucs history. While seven years ago Lovie got caught with his pants down by the spread-option, Leftwich got caught with his pants down by all the injuries to the Steelers' defense.
T.J. Watt, perhaps the best pass rusher in the game was out. So too was All-Pro safety Minkah Fitzpatrick, maybe the best safety in the NFL. Then the Steelers' top three corners were out.
Even the weakest high school offensive coordinator knows the gameplan should have been to attack, attack, attack the Steelers through the those massive injuries in the pass defense, and with the Bucs holding such a superior edge at the skill positions,
If Bill Belicheat had Tom Brady, Mike Evans and Chris Godwin and/or even Russell Gage, what do you think he would have done? He likely would have put the ball in the air 40 times — in the first half alone.
Nope. Leftwich went ground-and-pound, apparently oblivious to the fact his running backs — yes, *his* because he's in charge of the offense — had the worst yards-per-carry in the league. If the Steelers had a strength on defense, it was their rush defense.
Just unreal!
Six hours after the game and Joe still cannot find words to convey the disgust and amazement at how badly Leftwich botched that game yesterday. Joe likes Todd Bowles but he should share some of the blame.
At some point, couldn't the head coach get on the headset, "Hey Byron, knock off the two-yard runs on first down. Let's start going after their backups in the secondary."
And if Joe is going to quibble with Brady — Joe won't — it would be because Brady didn't overrule Leftwich (you know Brady has that power) by telling him, "Byron, quit running, we have to attack their secondary." It shouldn't have come to that, though.
It was as if Leftwich developed the gameplan Monday or Tuesday of last week without knowing who would be out for Pittsburgh. When the injury report came out Friday with all of those starters declared out, Leftwich was too stubborn (or unwilling) to update the plan?
Joe remembers once his old man told him, "It's one thing to be stubborn. It's another to be stubborn and dumb." Joe has the feeling the latter described Leftwich's run-run-run gameplan yesterday until the Bucs had no choice but to throw for a comeback. And look what happened then: They scored a touchdown!
That disgrace was the Bucs' offensive version of Tennessee-Ready.
And Joe is sick about it.
Difference Is Bucco Bruce Arians
Joe remembers prior to Bucco Bruce Arians being hired, Joe heard all sorts of NFL people — including Father Dungy and Chucky — say with firm conviction that the Bucs had the talent to win.
Even Dirk Koetter said this without blinking an eye.
Joe kept hearing this and the Bucs kept losing. It got to the point Joe thought these folks were just yapping because they didn't want to insult players, coaches or front office types at One Buc Palace.
In comes Arians and in two years — two! — he turns that team, with its core from the Lost Decade mostly intact — into Super Bowl champs.
After yesterday's debacle in Pittsburgh, Joe thought of the Lost Decade and those talented players, many still with the Bucs.
What turned the Bucs from losers into champs? Arians. What's missing from the Bucs this year? Arians.
Arians had the perfect disposition. He was a grandfatherly type, close to his players but he didn't blink an eye if someone needed his arse chewed good and proper. Loud and dirty. F' bombs flying.
Joe is not one to think a guy needs to be Bobby Knight to coach well. Some of the best coaches in NFL history were stoic on the sidelines. Some were redarses, sure. A coach's personality does not dictate if he's a winner or not. Former Bucs commander Greg Schiano was an in-your-face coach. He failed. Dirk Koetter leaned to the stoic side. He mostly failed.
But Joe does think there is something to a guy who will ride a player if needed to get a point across, to motivate. Todd Bowles will do that, just behind the scenes. Arians didn't give a damn who was watching or listening.
Arians brought a bite, a standard. Production was demanded. For example, Joe remembers seeing former tight end Tanner Hudson drop a catchable ball in 2020 training camp. Mount Arians exploded on him, "Catch the mother f'ing ball!" Joe never heard any of that this summer.
Joe once saw Arians run former guard Alex Cappa off the field in practice, serenaded by all sorts of foul language for making what Arians later said in his press conference was a "real dumb@ss play." Joe didn't see any of that this summer.
Are the Bucs losing because Arians is no longer in charge? Joe doesn't know.
But the way the Bucs have played the past four weeks, with all their talent, they sure seem more like Koetter's Bucs than Arians' Bucs. Don't they?
Joe Won't Blame Devin White
Once again, the Bucs couldn't start the game on defense. They got bullied down the field on the Steelers' first possession for an 11-play touchdown drive.
But Joe cannot blame Bowles. The defense was off the field on that first Pittsburgh possession … until that yellow hanky came out. Devin White made one of the stupidest late hits you will see on a quarterback.
Joe had his binoculars on Steelers quarterback Kenny Pickett. Joe saw White get past his blocker and right then Pickett unloaded the ball. White was well away from Pickett.
Joe couldn't believe the call on White. White wasn't near Pickett when the rookie let go of the ball.
That play, if you want to be an arsehole about it, cost the Bucs the game. Pittsburgh would score a touchdown on that drive and the Bucs lost 20-18. But you know what, the Bucs had 52 minutes left to bounce back. So Joe cannot finger White.
That belonged to the guy on the Bucs sideline calling plays seemingly in a vacuum.
The Mitch Trubisky Hex
Mitch Trubisky is a trash quarterback. He was truly horrible in Chicago, a big tease in Buffalo in limited action, and downright brutal with the Steelers.
Yet Trubisky came alive coming off the bench for an injured Pickett to connect on 9 of 12 passes for 144 yards and a touchdown to prevent the Bucs from coming back.
Yes, this is the same Trubisky whose singular moment of glory previously was going scorched earth on the Bucs. It was a dreary, damp, chilly late-September day (welcome to Chicago) along the banks of Lake Michigan and Trubisky went bananas looking more like Dan Marino than, well, Trubisky. The pride of North Carolina ripped up the Bucs (Mike Smith says hi) completing 19 of 26 passes for 354 yards and six touchdowns. Yeah, six.
So it seems Trubisky lives large against Tampa Bay. Joe never wants to see that guy on an NFL field in person again.
Trubisky against the Bucs is 28 of 38 for 498 yards, seven touchdowns and no picks.
Investments Looking Bad So Far
The Bucs rolled the dice on offseason replacements to take over for some effective players. Akiem Hicks was supposed to replace Ndamukong Suh. Russell Gage was initially supposed to replace Antonio Brown. Then Julio Jones was to replace Brown. Kyle Rudolph was going to ease the pain of losing Rob Gronkowski.
The results? Poor.
Already more than one-third through the 2022 season and Joe the new guys aren't faring well.
Injury-prone Hicks has made a limited impact. He didn't make it through his second game before he was lost for what was expected to be five games. The fifth game is next week in Charlotte.
Jones has missed as much time. Like Hicks, the Bucs knew Jones was no stranger to the injured reserve list. The Bucs thought if they managed his workload in practice Jones would be healthy enough to play. Instead, the Bucs recently and openly discussed putting Jones on ice until January.
(The way the Bucs are playing, they won't have to worry about Jones showing up in January.)
Gage? He's battled injuries since OTAs. He's on the injury report every week. Sure, he gets on the field but his impact has been meh. A possession receiver and little more. Yesterday facing a trash secondary, Gage had two catches on four targets for 20 yards. Eh.
Rudolph? He's the fourth-string tight end and is rarely active on gameday.
In all, these four replacements have made nowhere near the impact of the guys they replaced. So far, it seems like good money flushed.