Did The Bucs Defense Think It Could Handle The Chiefs?
October 4th, 2022
Joe isn't sure if this is the angle a former Bucs defensive tackle was taking, but it seems reasonable.
Former Bucs first-round draft pick and current BSPN talking head Booger McFarland took to Twitter Sunday night and had a thought on the Bucs defense.
Of course, the Bucs' defense, which played strong ball until Sunday night, couldn't stop Kansas City to save its life. Not until the final moments of the game did the Chiefs punt.
There was virtually no hope of a comeback because the defense looked lost. Booger seemed to think the Bucs' defense may have had a rude awakening.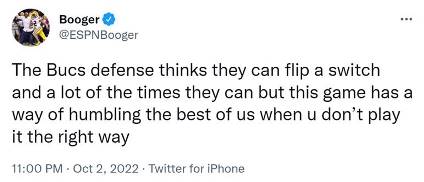 Joe is guessing Booger felt the Bucs thought all they had to do was show up and the game was won. The NFL isn't like that.
Joe isn't freaking out. Joe fully remembers how the Chiefs waxed the Bucs in the first half of a regular season game in 2020. When the two teams met later in the Super Bowl, it was a far different story.
Perhaps the defense just needed a reality check?