Defensive Line Better Show Up
October 7th, 2022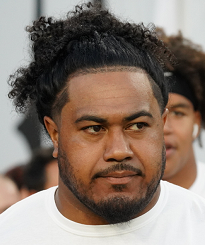 It's coming, said Bucs co-defensive coordinator Kacy Rodgers. It's coming and the defensive line better have their chin straps buckled.
What is coming? The Dixie Chicks' running backs. And their offensive line.
The Dixie Chicks — perhaps even Atlanta coach Artie Smith understands runaround quarterback Marcus Mariota is a gimmick — make no secrets what they plan to do on offense. Ram the ball down a defense's throat.
Last week the Chiefs' offensive line absolutely bullied the Bucs' defensive front. It was jarring to see a brute like Vita Vea get pushed around. That allowed the Chiefs to damn near run the ball at will and when you do that, you not only control the game but you keep the ball out of Tom Brady's hands.
Rodgers yesterday said in no uncertain terms his defensive line better snap out of it.
"Everything," Rodgers said when asked what his defensive line needs to work on. "Everything. For one, just getting off blocks better – everybody fitting the way we need to be.

"We just need to play a heck of a lot better than we have been playing."
Rodgers also noted that bad play by one defensive lineman last Sunday night, for whatever reason, seemed to infect others on the line and it resulted in "snowballs" from there.
Interesting revelation, Rodgers said he did rookie Logan Hall an "injustice" by not getting him more snaps.
But Rodgers is right, the defensive line needs to come to work Sunday. Another performance like last Sunday night and the Bucs might be setting themselves up for getting blindsided.