Clean Living For Tom Brady
October 3rd, 2022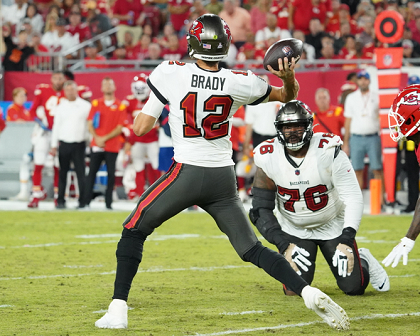 So how bout that Buccaneers' offensive line, Coach Bowles?
Tampa Bay's head man was talking about it today on SiriusXM NFL Radio.
Co-host Pat Kirwan, the former Jets linebackers coach and personnel chief, was sharing with Bowles that he liked what he saw from the Bucs' O-line on film. The pass blocking was very much on point, Kirwan said, adding that Tom Brady's pocket movement and sliding were excellent.
Bowles was asked for his "bright spots" on the game film and he went to the O-line, too.
"They did a decent job. You know, the guys are gelling together pretty good. There was a few pressures in there but for the most part they kept him upright," Bowles said of the O-line. "And [Brady] threw the ball pretty well. Having some healthy receivers back, I thought the passing game was finally getting" on track.
Not only have the Bucs invested many tens of millions in wide receivers, they also have an offensive line that consistently seems more successful at pass blocking than run blocking.
Joe sure hopes the Bucs play to their strengths on Sunday against Atlanta.
Despite all the angst about the Bucs' passing game, Brady ranks third in the NFC in passing yards, and Matt Stafford will need more than 300 yards tonight to pass Brady.